Process Manufacturing Employee Scheduling Software
Keep Your Operations Running
Smoothly, Efficiently, and Safely
AK Steel (acquired by Cleveland-Cliffs) reduced absenteeism by 38% using our solution to standardize and automate scheduling processes.
According to The Manufacturing Institute and Deloitte Consulting LLP, 22% of manufacturing workers, along with their unique skill sets, will be retiring in the next ten years.
According to US Labor Statistics, manufacturing employees average up to 500 hours of overtime a year.
Ensure Smooth Operations
Deliver on production commitments by maximizing shift coverage with speed, agility, and precision.
Create new schedules in seconds by automating shift requirements, shift patterns, and workflows specified in your operational practice, internal policies, and union agreements.
Fill last-minute vacancies with automated employee lists that have been validated against all compliance rules, skills eligibility, overtime implications, and more.
Minimize operation disruptions by examining staffing levels, group schedules, and backfill options before approving leave requests.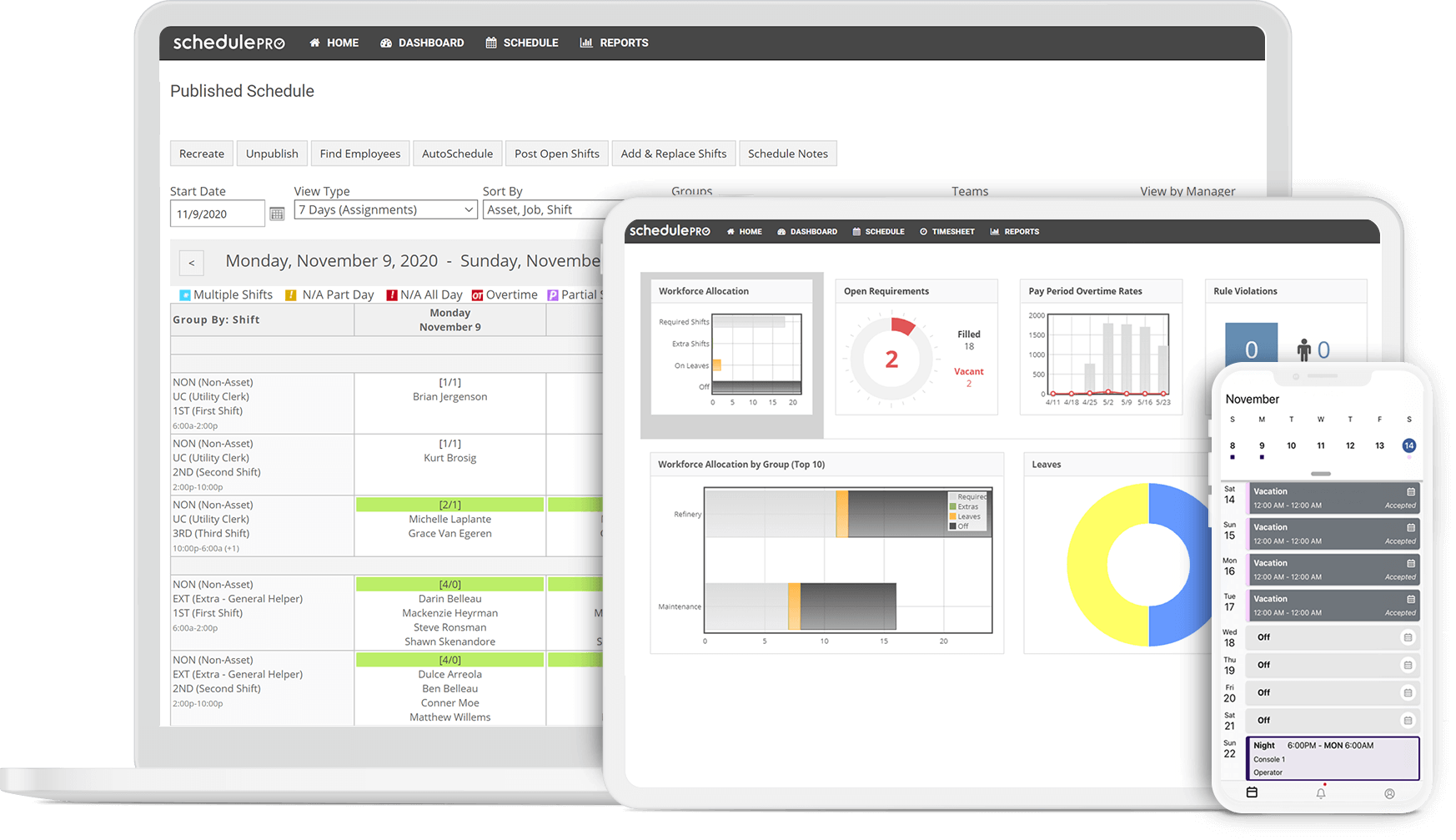 Control Overtime Cost
Manage overtime cost and distribution to ensure schedules are on-budget, fair, and adherent to your overtime policy.
Exhaust all non-overtime options before initiating overtime. When overtime is required, prioritize employee options based on overtime cost implications.
See both current and forecast overtime data to stay on-budget.
Reduce employee grievances and associated fines by assigning overtime shifts in the employee order specified in internal policies and collective bargaining agreements.
Combat Labor Skills Shortage
Design smart job rotations and training schedules to continuously maintain and develop critical skills pool.
Ensure employees' proficiencies are maintained by rotating their schedules among critical jobs at desired frequencies.
Build cross-training into the schedule by pairing more experienced employees with new hires or junior staff for the same shift.
Plan and schedule training in advance with insights about your organization's skill set inventory and soon-to-expire job qualifications and proficiencies.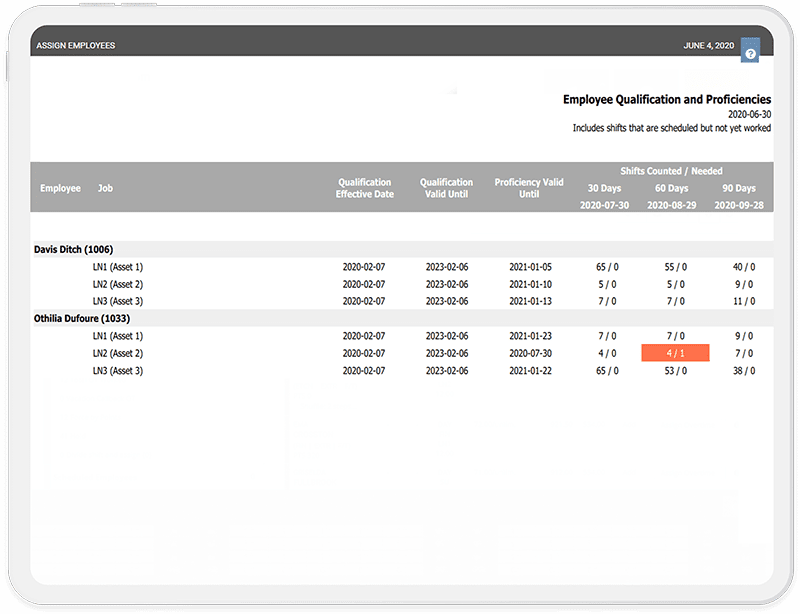 Trusted by Leading Manufacturers Worldwide
5 Reasons Process Manufacturers Choose Shiftboard
Scheduling Workflow Matching
Follow your unique scheduling and backfill processes to ensure employee assignments are standardized, fair, and error-free.
Manufacturing Specific Functionality
Address your specific manufacturing scheduling needs with purpose-built capabilities such as line-balancing, hold-overs, on-call rotations, and emergency response team assignments.
Fill Rate Optimization
Create schedules that yield the best labor skill utilization, shift coverage, and overtime costs with smart business logic. Improve fill rates with instant employee alerts and a wide array of backfill methods such as shift bids, shift trades, and volunteer sign-up.
Overtime Detection and Control
Reduce overtime allocation and payroll errors by matching the exact overtime counting methods in your OT policy or collective bargaining agreement. Use exclusive tools such as "grievance checker" to identify more cost efficient or fairer OT assignment options for each shift.
Qualification and Proficiency-Based Scheduling
Design smart schedules that verify employees are current in job qualifications and proficiencies and leverage current status throughout the scheduling process.
---
Employee Scheduling for Manufacturing: A Best Practices Guide
Learn six best practices to develop an employee scheduling strategy to improve productivity and reduce costs.
Shiftboard for Manufacturing Solution Sheet
Learn more about how Shiftboard's solutions can help you lower costs, increase efficiency, and improve safety.
---
At LUSH, we utilize technology to specifically assist in scheduling our staff in a manner that accommodates their needs, while also ensuring that our staffing strategy meets the needs of the business. We will further refine the ways in which we schedule our staff to better serve them, and also help us achieve operational excellence.

Alan Nair, Labor Scheduling Project Lead, LUSH Fresh Handmade Cosmetics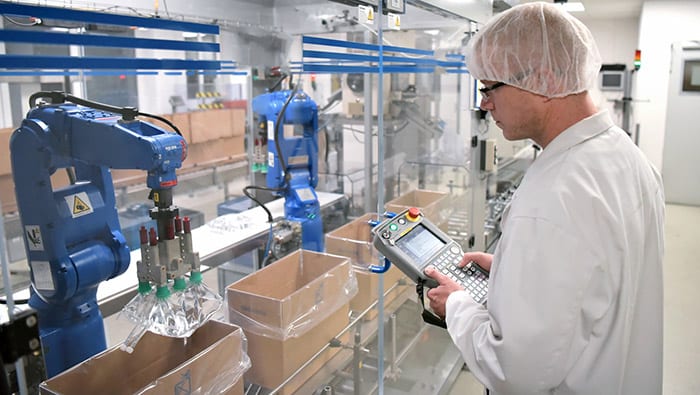 What Would You Like to Do Next?
Talk with Us
We'll be in touch for a short conversation about your workforce scheduling challenges and how we can help.
Learn More About Software
See how Shiftboard's SchedulePro can help you maintain compliance and address challenges like fatigue.