Webinars
Video Sessions on Workforce Management and Employee Scheduling
Shiftboard Product Tour
Thursday, March 7
10:00 am PST | 1:00 pm EST
Shiftboard customers report an average of a 53% increase in schedule creation efficiency and a 40% decrease in employee turnover. See how smarter scheduling software can solve your most challenging workforce scheduling problems in this 30-minute live product tour.
This demonstration will include:
An overview of our platform
An intro to our admin interface
The mobile user experience (employee view via Shiftboard app)
Q&A session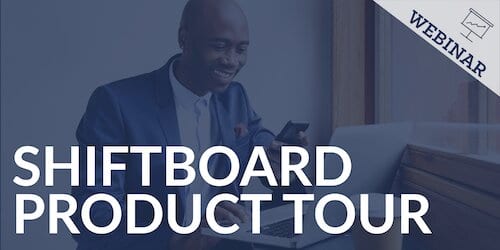 Hourly Workforce Management – Secrets of Success from America's Largest Company
Join Rick Webb, former SVP of Global Processes at Walmart as he shares his expertise on how to successfully manage your hourly workforce while improving operations through strategic employee scheduling. In this webinar, you will learn:
Best practices for the top 3 challenges of managing a large hourly workforce
The key role of scheduling in operational excellence
How technology drives efficiency
Predictive Scheduling: What You Need to Know
Predictive scheduling laws affect employers across the country, and the number of jurisdictions passing these laws is rising. Managing compliance to these employment laws is a complex process, and penalties for violating the new rules are significant. As a result, companies are turning to technology and data to help them more efficiently create and maintain compliant worker schedules.
In this 30-minute webinar, we'll share key information about the new laws, including:
Predictive scheduling at a glance
Impact of predictive scheduling laws
What's new in 2019
How technology can help
How to Optimize Hourly Labor Costs Through Better Forecasting
Most organizations experience periods of peak and low demand. Understanding historical demand variables can be an important ingredient to creating optimal worker schedules for many organizations. Increasing the accuracy of labor demand by role & location can create higher quality schedules and generate significant cost savings. Even better, customer service and worker satisfaction also improve.
Watch our webinar to learn about labor forecasting in the employee scheduling process. We cover a framework, specific examples and the business benefits of labor forecasting and accurately planning worker schedules.