2020 Vision: Labor Laws to Watch in the Year Ahead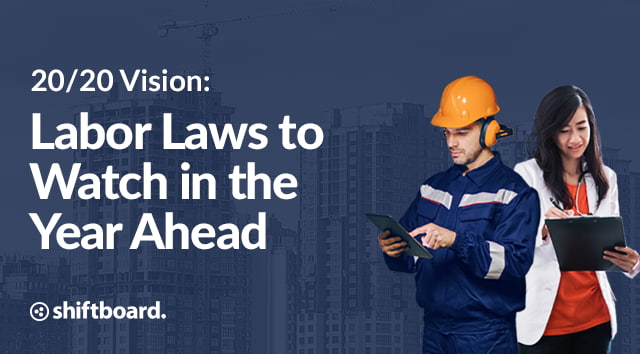 They say, "Hindsight is 20-20," but being well-versed on the new labor laws in your state is critical to clarify your vision and manage the future of your company. From minimum wage increases to mandatory paid sick leave, here are a few things you need to watch for in the coming year.
Wage Increases Across the Nation
From New York to L.A., more than 20 states will see an increase in minimum wage beginning January 1. On a federal level, the minimum wage remains constant at $7.25 — a number unchanged since 2009. As the cost of living rises, more states are opting to increase their wages to remain competitive in the face of a tight labor market.
Here are a few of the states that plan to increase the minimum wage in 2020:
---
Other Labor Laws to Watch in 2020
Throughout the year, employers may face labor law challenges as new laws are enacted, legislations are passed, and companies try to remain compliant.
Here are a few new pieces of legislation to keep your eye on in the coming year:
Cities Setting Their Minimum Wage: Colorado recently repealed a ban that prevented cities from setting a minimum wage for their jurisdiction, as many of the cities have a varied cost of living, and this gives them the flexibility they need to address the employment needs of their residents. It is suspected that as more cities in Colorado begin to adjust their wages in correlation with the cost of living, that more states across the country will follow suit.
Paid Leave: Paid leave laws come in many forms, are complicated to understand. For example, 10 states, the District of Columbia and 22 other jurisdictions have or will soon have paid sick days laws in effect. Texas doesn't currently require private employers to offer paid sick leave to any employees. However, San Antonio, Dallas, and Austin have tried to pass ordinances requiring them to do so. Dallas and San Antonio are in the process of enacting their laws, while the fate of the Austin laws remains to be seen.
Marijuana: As more laws are passed regarding the legality of marijuana for medicinal use, the impacts on employers also begin to rise. In Illinois this year, it will be legal for adults to carry small amounts of cannabis, and employers will not be able to discriminate based on use. However, there is also a bit of a gray area in the Illinois law that has a provision about "impairment" in the workplace. It is expected the courts will eventually need to provide clarification.
Wage Theft: A new criminal provision of Minnesota law prohibits employers from intentionally committing wage theft. It is a felony if the amount is more than $1,000. If the wage theft amount exceeds $35,000, the fine goes up to $100,000 and could include a sentence of up to 20 years in prison.
Other Resources to Stay Current on Employment Law
Want to stay current on employment laws affecting scheduling? Here's a list of useful links to bookmark for reference throughout 2020:
Staying Informed is Key
In a world where change is the only thing that remains constant, employers must not avoid investing in strategies to stay up-to-date with the employment laws in their state, county, and/or city. In addition to constantly changing labor laws, workforce managers face increasing employee satisfaction and retention challenges as well.
Thankfully, powerful technologies have emerged to help business leaders effectively address multiple challenges within their organization. The key is to invest in solutions that can configure to their unique workforce dynamics and also scale as business requirements change.