The Real Cost of Employee Disengagement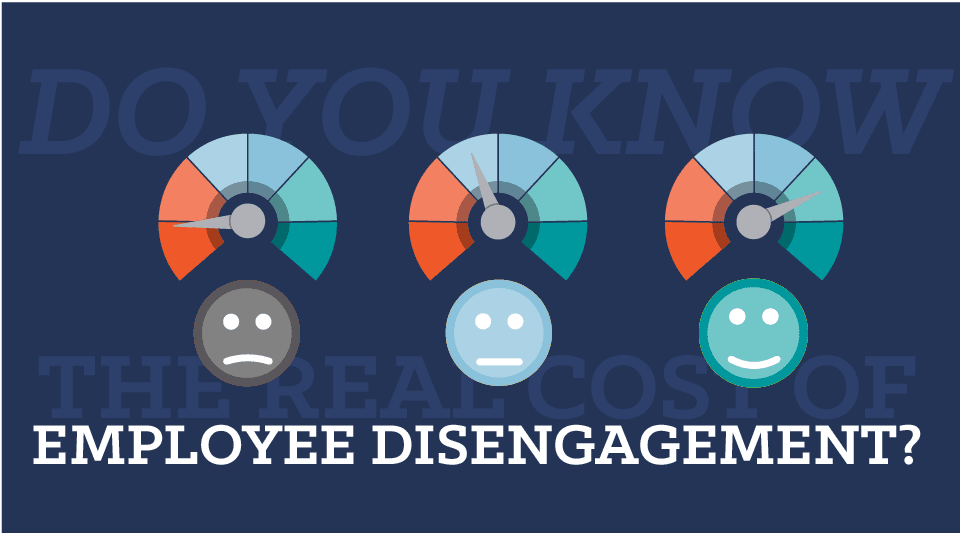 Do you know the level of employee disengagement at your business? According to a recent Gallup poll, only 33% of workers in the United States are engaged in their jobs, which means the remaining 51% of employees are disengaged and 16% are actively disengaged.
What is employee engagement?
Gallup defines engaged employees as those who are involved in, enthusiastic about and committed to their work and workplace. Gallup categorizes workers as engaged, not engaged or actively disengaged based on their responses to key workplace elements.
Engaged: Employees are highly involved in and enthusiastic about their work and workplace. They are psychological "owners," drive performance and innovation, and move the organization forward.
Not engaged: Employees are psychologically unattached to their work and company. Because their engagement needs are not being fully met, they're putting time — but not energy or passion — into their work.
Actively disengaged: Employees aren't just unhappy at work — they are resentful that their needs aren't being met and are acting out their unhappiness. Every day, these workers potentially undermine what their engaged coworkers accomplish.
What does that mean for you?
Disengaged employees are either:
just co-existing in your workplace
saying negative things about your company, or
lacking any involvement with their teams or initiatives to keep pushing the company forward.
Bottom Line
Disengaged employees are costing you money and affecting your profits. The hard-nosed reality is that if you do nothing to help employee disengagement, you are wasting money each year. Each disengaged employee costs you 34% of their salary because of lost productivity, missed shifts, chronic tardiness, and disrupting others by spreading negativity throughout the company. Actively disengaged employees are miserable in the workplace and destroy the positive benefits engaged employees work so hard to build for the company.
Businesses often think employee engagement is about satisfaction and happiness, but it goes much deeper. Employee engagement involves how much workers want to be engaged in the business, be proactive about their schedule, and be positive about where the company is going and how they treat their coworkers.
High Price You Pay for Employee Disengagement
Disengaged employees lose the motivation to give their best effort to help your business succeed. Here are some sobering statistics:
Nearly 70% of all U.S. workers don't like their job.
Actively disengaged employees cost the U.S. $483 billion to $605 billion each year in lost productivity.
Global engagement is trending downward (2015: 65%, 2016: 63%).
Want to see the numbers for your business? Using averages calculated by multiple research organizations, we here at Shiftboard can take a well-educated guess on the amount employee disengagement is costing your business.
Are you wondering how much money you may be wasting on disengagement every year?
Communication: The Key to Better Engagement
Historically, discussions around employee engagement have centered around salaried employees. With over half (58.7%) of all United States workers paid hourly, we believe improving employee engagement is a must for any business that relies on hourly workers. Companies wanting to shift their hourly workers from actively disengaged to actively engaged should focus their efforts on better schedule communication.
For hourly employees, their work schedule is at the center of their daily lives. Work schedules determine paychecks, vacation time, work hours, work location, teammates, job responsibilities and much more. Naturally, this means the schedule is a point of stress for most managers, schedulers, and hourly workers.
While there are many strategies for engaging hourly workers, organizations can start by improving their scheduling communication. Establishing a healthy communication rhythm around your scheduling process helps increase employee engagement while easing the inherent stressful task of building a working schedule.
Arming your business with a well thought-out communication strategy, you'll improve the number of hourly workers that feel involved, appreciated, and committed to their work. Good communication that aligns with a scheduling methodology is the key to unlocking the benefits of employee engagement for hourly personnel.
For more information, check out our guide to help your organization take pragmatic steps towards engaging your hourly workers by establishing best practices for schedule communications.
Scheduling Communication Solution
By implementing scheduling automated software like Shiftboard, you'll start seeing higher productivity, lower levels of sick leave use, less work time missed due to workplace injury or illness, lower levels of attrition, and higher levels of employee satisfaction.
According to Gallup, improving employee engagement strongly impacts the overall well-being of your business. Employee engagement was found to have the following effects:
17% higher productivity
21% higher profitability
10% higher customer satisfaction
41% lower absenteeism
24% less turnover (in high-turnover organizations)
59% less turnover (in low-turnover organizations)
70% fewer safety incidents
40% fewer defects and quality issues
The simple truth comes down to this: if you ignore employee disengagement, employees will opt to work elsewhere. Respecting employee communication preferences will amount to higher engagement along with higher productivity within your business, which means happier employees and higher profits.
If you're considering a scheduling automation solution with robust communication capabilities, we'd love to show you our solution. We've learned a lot from helping organizations across nearly every industry successfully schedule millions of shifts for countless workers.